New Patients
We are currently accepting new NHS patients.
Please call the practice during opening hours on 020 3458 5310 to request a form. Alternatively, please download our New Patient Registration Form and fill it out. You can return this to us by email, in person or by post.
Alternatively you might like to try our sister practice Eyesmile, they are located in Whitton High Street and are able to offer an independant routine exam including xrays for £35.00. Their telephone number is 020 8755 7900 and they can offer late evening and Saturday appointments.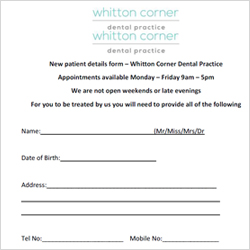 NHS treatment for adults & children
Private treatment for adults & children